上記の広告は1ヶ月以上更新のないブログに表示されています。
新しい記事を書く事で広告が消せます。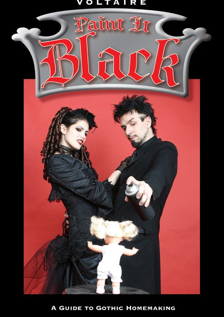 Paint it Black
          Voltaire
Home decorating will never be the same. Close your curtains! Throw away your summery linens! Forget about those white eyelet pillow covers! And for Goth's sake, buy some black lights! Voltaire is here to help you with your home decorating dilemmas, guide you through the hardware stores and decorating centers (which are so difficult for Goths to navigate), and lay it all out on the line about which shade of black goes with which shade of black. Who knows?! One day soon he might have his own decorating line at a discount store. In this world of pastels and plaids, it's so hard for Goths to find anything aesthetically appealing. You go in search of Edward Gorey and wind up with an eyeful of Eddie Bauer. With Voltaire's Paint It Black you can turn the unbearably mundane into the delightfully macabre with little more than a touch of creativity and a can of black spray paint.
小説ではありません。
これも『What is Goth?』と同じデザインの本で、前書『
What is Goth?
』がゴス入門ならば、こちらは、その少し発展バージョンの、ゴスライフスタイルの入門書。
DIYインテリアや部屋のリフォームからクッキング、果てはゴス結婚式まで、色々紹介しています。
こちらも、翻訳は出版されておりません。
Back to Index
スポンサーサイト
What is Goth?
          Voltaire
What Is Goth? is a humorous, self-deprecating look at Goth culture from the inside out. Imagine The Preppy Handbook colliding with Charles Addams. Then add a lot more melancholy and a lot more spooky. What Is Goth? dispels the false stereotypes and reinforces the true ones surrounding Goths and Goth culture. "To the mundane," Voltaire writes, "Goths are weird, black-clad freaks who are obsessed with death; they are sad all of the time. Take a closer look at the Goth scene, however, and you will find a rich tapestry of ideas and practices and a menagerie of colorful characters. Oh, dear. I said 'colorful.'" Yes, Goths are pale, wear black clothing, love black makeup (on men and women), mope, listen to real downer music, and perfect the art of living in a perpetual state of ennui and melancholy. But there's so much more to being Goth. Goths come from all walks of life. Many are teenagers who live with their parents; others are doctors, lawyers, musicians, and so on. Most Goths are highly literate and creative, but all real Goths have to dress the part. In other words, "Abandon all hope ye who enter a Goth club in khakis!" Eerily illustrated, What Is Goth? is the perfect book for any Goth, Goth wannabe, or "mundane" who is hopelessly confused by all the gloom.
小説ではありません。
ハードカバーの薄いコンパクトな本は、Voltaireによる『ゴスとは?』という、
入門書。
由来から、ファッション、アティチュード、ダンスなどなどを紹介。
写真を見てるだけでも楽しいです。
わかりやすい説明は、ゴスの入門には、もってこいです。
この本の、翻訳版は出版されていません。
Back to Index