上記の広告は1ヶ月以上更新のないブログに表示されています。
新しい記事を書く事で広告が消せます。
Vampire Academy
          Richelle Mead
   ├Vampire Academy
   ├Frostbite
   ├Shadow Kiss
   ├Blood Promise
   ├Spirit Bound
   └Last Sacrifice
St. Vladimir's Academy isn't just any boarding school―it's a hidden place where vampires are educated in the ways of magic and half-human teens train to protect them. Rose Hathaway is a Dhampir, a bodyguard for her best friend Lissa, a Moroi Vampire Princess. They've been on the run, but now they're being dragged back to St. Vladimir's―the very place where they're most in danger. . . .
Rose and Lissa become enmeshed in forbidden romance, the Academy's ruthless social scene, and unspeakable nighttime rituals. But they must be careful lest the Strigoi―the world's fiercest and most dangerous vampires―make Lissa one of them forever.

命あるヴァンパイア"モロイ"を保護する聖ウラジーミル学園。そこに暮す問題児ローズはモロイ王族でもある親友リサを護衛するガーディンになるのが夢。そして二人は不思議な"絆"で結ばれていた。そんなローズの前に熟練ガーディアンのディミトリがあらわれる。彼との特訓を通じ、強く惹かれるローズ。しかし二人は教官と生徒。ローズは禁断の愛に苦しんでいた。やがて、安全なはずの学園内でリサの身を脅かす事件が発生。しかも犯人はローズとリサ以外は誰も知らない、リサの特別な能力のことを知っているようだ。犯人の狙いとは?そして不思議な"絆"とリサの能力の正体とは…。

Vampire Academyシリーズ。
ヴァンパイアロマンスものです。
日本では、
『ヴァンパイア アカデミー 1』
『ヴァンパイア アカデミー 2』
が出版されています。
Back to Index
スポンサーサイト
Hillserpent Academy
          Richard Denney
   ├Hillserpent Academy
   └Bloodlines
Owen Davinforth has been expelled from Hillserpent Academy for the last eight months & now he is permitted to return. But things have changed at the academy & not for the good. Owen's falling for a new guy, a dark force is working it's way around the school & it's aiming for Owen. Can he stop who or what it is before it's too late? What lies behind these gates? You will soon know.

Hillserpent Academyシリーズ。
ヴァンパイアものです。
1冊目が発売されたばかりです。
Back to Index
The Morganville Vampires
          Rachel Caine
   ├Glass House
   ├The Dead Girl's Dance
   ├Midnight Alley
   ├Feast of Fools
   ├Lord of Misrule
   ├Carpe Corpus
   ├Fade Out
   ├Kiss of Death
   ├Ghost Town
   ├Bite Club
   └Last Breath
Welcome to Morganville, Texas.

Just don't stay out after dark.

College freshman Claire Danvers has had enough of her nightmarish dorm situation, where the popular girls never let her forget just where she ranks in the school's social scene: somewhere less than zero.

When Claire heads off-campus, the imposing old house where she finds a room may not be much better. Her new roommates don't show many signs of life. But they'll have Claire's back when the town's deepest secrets come crawling out, hungry for fresh blood.

The Morganville Vampiresシリーズ。
ヴァンパイアものです。
日本での翻訳出版はされてません。
どうでもいいけどUK版の方がゴスでヴァンパイア~ってかんじで好きなんだけど、Feast of Foolsに関してはUS版の表紙がイケメンでこれだけUS版で欲しいって思ってたり(笑。どうでもよすぎる話。)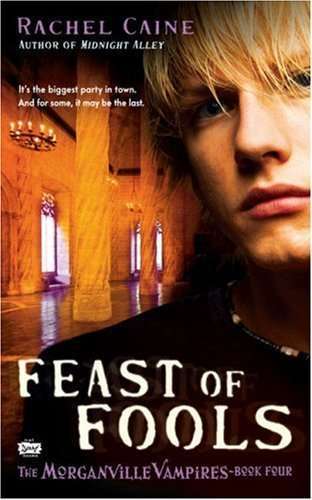 Back to Index